About Safstor
SAFStor is a vertically-integrated, volume-driven developer/owner of institutional-quality self-storage with a geographically diverse footprint spanning the eastern United States. With over 3.3 million square feet in construction and operation, and an annual development pipeline of 1.2 million square feet, the Company's primary focus is on mitigating market and development risk; accordingly, we employ a proven, data-driven approach and partner with best-in-class capital providers, general contractors and management partners, including Extra Space Storage, CubeSmart, and Life Storage. 
SAFStor adheres to a defined set of investment criteria which it vets using its proprietary market selection software, and seeks to minimize development and construction risk by principally adhering to a building prototype derived from REIT specifications. Before a site is authorized to proceed, it is subjected to a triple-redundant underwriting process, both internal and independent. Execution is then overseen by SAFStor's in-house development, construction management, and asset management teams. Our volume-driven approach allows teams from each discipline to mine prior, current, and future projects for data consistency.
SAFStor's principals bring over 50 years of in-depth real estate experience, having developed over $3.5 billion of mixed-use real estate since 2012, and over $400 million of self-storage since 2017. Prior partners include sovereign wealth funds, tier one PE firms, and pension funds.
Market & Site Selection Criteria
With specific criteria, each property is poised for long-term success, benefiting investors and customers alike.
1-3-5 Mile Radius to Site
Number of Households
Total Population
Household Income
Competitors
Traffic Counts
Size of Household, Owner/Renter
How it works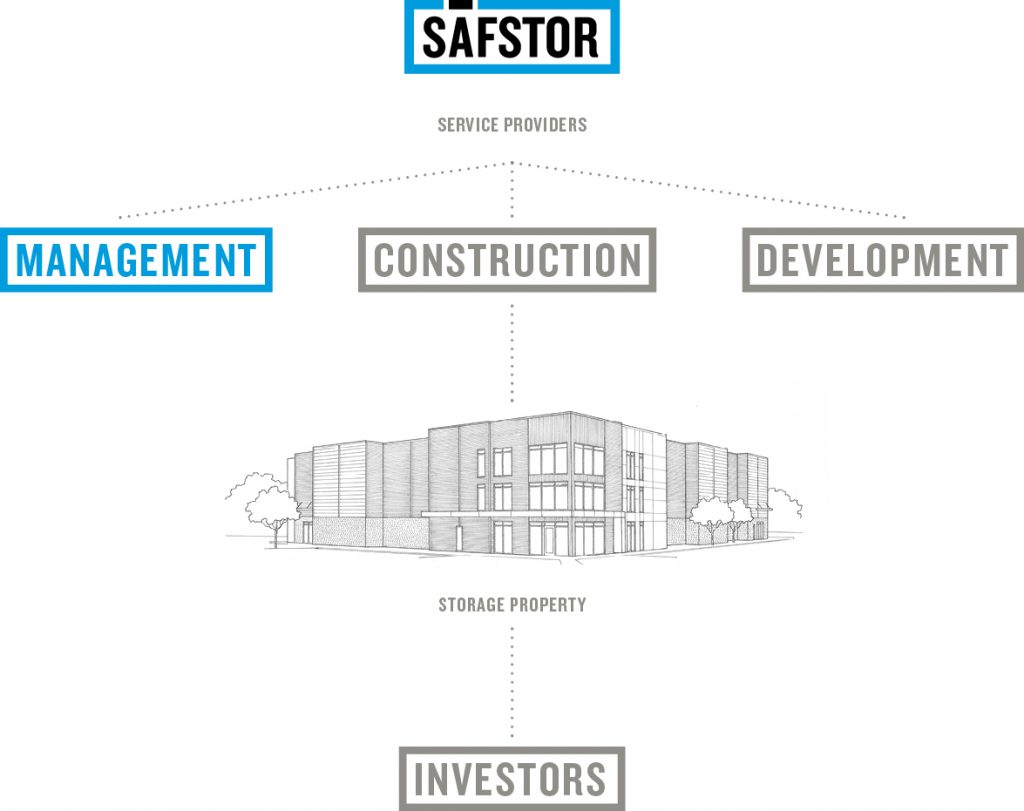 Our Team
Andrew Young
Co-Founder & CEO
Andrew is Founder and CEO of SAFStor, among the most active developers of institutional-grade self-storage facilities in the United States. Prior to founding SAFStor, Andrew was an Executive Vice President for Landmark Properties, Inc., the #1 developer of purpose-built student housing. Over a 5- and 10-year period respectively, Andrew's efforts resulted in $1.9+ and $2.7+ billion of urban, mixed-use student assets across the United States, including retail, hotel and office. Before joining Landmark, Andrew was Senior Vice President of Investments and General Counsel for Campus Crest Communities, Inc. (NYSE: CCG), then the nation's second largest student housing REIT. Prior to joining Campus Crest, Andrew managed the acquisitions and development arm for Consolidated-Tomoka Land Co. (NYSE: CTO), a diversified real estate investment company focused on the retail, office, industrial and land sectors. Prior to entering the real estate industry, Mr. Young was a Vice President in the Global Mergers & Acquisitions Group at Citigroup, Inc. (NYSE: C). Andrew holds a Juris Doctor from Georgetown University Law Center, a Bachelor of Arts from Washington University in St. Louis, and is a member in good standing with the Florida Bar Association. He is a regular speaker at industry conferences, is a guest speaker at the University of Florida Warrington School of Business and sits on the board of Easterseals Northeast Central Florida.
Robert Bentley
CFO
Prior to joining SAFStor, Robert served in senior finance and accounting roles with several major southeastern real estate and development companies. From 2004 until 2008, Robert was Chief Financial Officer of ICI Homes, one of the largest production homebuilders (10,000+ homes) in the Southeastern United States. From 1998-2000, he served as Controller for WelbroBuilding Corporation, a large, Orlando-based general contractor specializing in the hotel/hospitality, education, commercial office and retail/commercial sectors. From 1988-1989, Robert worked in the accounting and finance group with ITT Community Development Corp., the developer of what is now known as (the cities of) Flagler-Palm Coast. In addition to his work in the real estate field, Robert worked most recently as Chief Financial Officer and Controller of a Florida-based manufacturer* of firearms and related products (2009-2017), and from 2000 until 2004 served as CFO for the Southeast Group of Companies, an Orlando-based manufacturer of fire suppression products. Robert resides in Ormond Beach, Florida, with his wife, has four daughters, and works out of SAFStor headquarters in the Daytona Beach office.
*Employer named omitted due to confidentiality, employer is a contractor to the U.S. military
Ken Etterman
Director of Capital Markets
Ken has been actively involved in real estate finance and development since 1991. He began a banking career with a predecessor of Bank of America and progressed to a senior banker role in the real estate finance group of Wachovia Bank (now Wells Fargo). Mr. Etterman left Wachovia in 2006 to found Redfish Capital Advisors (RCA), a boutique real estate finance and development consulting firm serving real estate developers and investors in the underwriting, financial modeling, and capitalization of real estate assets (development, acquisition, refinancing, repositioning). From 2008-2016 Ken broadened his role with his client, Campus Crest Communities, serving as the Managing Director of Capital Markets (the company went public in 2010 and was purchased by a private equity group in 2016, Ken served the senior management of the company through the closing of the acquisition). Since forming RCA, Mr. Etterman has been involved in over $2.0 billion in construction, permanent, and corporate financings and has provided underwriting and advisory support for projects with a combined asset value in excess of $2.7 billion. Mr. Etterman earned a BS in Finance from Florida State University, an MBA from Western Carolina University, and holds the CCIM designation.
Steve Curtis
President of Construction
Prior to his role with SAFSTOR, Steve Curtis served as President of Charles Wayne Construction Services. Steve is a construction management professional and industry veteran with over 40 years of construction management experience directing a diversified portfolio of commercial projects. Steve specializes in real estate acquisition, development and construction with expertise in project planning, time management and cost control. As a single source of accountability to project owners, Steve's commercial construction experience includes the design, permitting and construction of 4+ million square feet of retail, office, independent living, resort, and full-service restaurants projects. Prior to specializing in the commercial markets, Steve held executive management positions in the residential construction industry with responsibilities that included the development of subdivision infrastructure and the oversight of all construction management teams for communities throughout the Carolinas. Steve currently holds a North Carolina General Contractors License, Building Classification, a Florida Certified Building Contractors License, and a Florida Real Estate Sales Associate License.
Ryan Rapolas
Vice President of Asset Management
Ryan Rapolas brings 10+ years of experience in the self-storage industry from across accounting/finance, operational and 3rd party property management functions. Before joining SAFStor, Ryan was an integral part of the successful 3rd party property management at CubeSmart, a top REIT operator. He helped launch the platform in June 2010 of 80+ managed properties, by establishing the property accounting group. In 2015, he advanced to asset manager where he oversaw 45+ high-profile relationships which consisted of 140+ facilities totaling over 7 million sq ft. He grew same store revenue by over 16% and limited expenses to less than 7% growth in the following 3 years. In 2018, Ryan was promoted to Sr. Relationship Manager to lead and develop the team of relationship managers. The team successfully oversaw 700+ properties totaling over $5.6 Billion in value across 200+ relationships. Prior to entering the self-storage industry, Ryan performed financial planning & analysis as well as general, project & royalty accounting across multiple industries. He earned a Bachelor of Science degree in finance at Rowan University where he was voted the Financial Management Association member of the year.